21 December 2017
World Championship in Khabarovsk - "The National Event of the Year"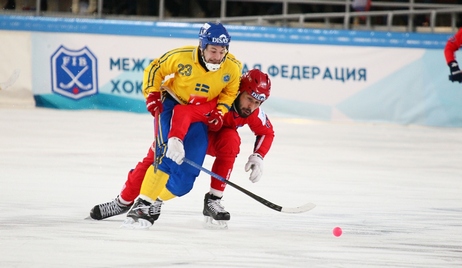 World Championship in Khabarovsk - "The National Event of the Year"
The experts of the Federal Agency of Tourism of Russiaformed a list of 200 best event projects in Russia in 2018. Among them there is the World Bandy Championship, which is held in Khabarovsk from January 29 to February 4.
"For Federal Agency of Tourism of Russia an attractive component is very important. The bandy supporters will definitely come to the World Championship to watch the games of eight world strongest teams. The Arena, hotels, restaurants are important facilities for tourists. All we do certainly have these facilities. I believe that after the World Championship 2015 the city became more attractive for tourists, "said Aleksandr Fedosov, the Minister of Culture of the Khabarovsk Region.
The World Championship was recognized as an important event of the year, because the tournament with the participation of bandy elite representatives will become a spectacular sporting event as one of the first in the upcoming 2018. According to the experts, the fact that Khabarovsk will take the world championship for the third time has played an important role in getting into the shortlist of the events of national scale: the first was in 1981, and the previous one - in 2015.
In total, 1600 applications from 74 regions of Russia were sent to the nomination of "National Event of the Year". The Khabarovsk Region was represented three times in the TOP-200 events of the year. In addition to the World Bandy Championship, the festival-competition of ice-fishing "Silver Smelt" and the international military music festival "the Amur Waves" were recognized as the events worthy special attention.  
"Silver smelt" takes place in Sovetskaia Gavan every year since 2006 and collects about 1500 fishermen and spectators. In different years, teams from Japan, the Republic of Korea, New Zealand, China and Uzbekistan participated in the festival-competition. Fishermen compete in drilling holes, preparing fish dishes and soup, holding a mini-championship on football on ice, and the girls are compete for the title of "Miss Silver Smelt".
The International Festival "The Amur Waves" has been holding in Khabarovsk since 2012. Each year the teams from the whole Russia and from other countries such as Korea, Kazakhstan, Singapore, Mongolia, and China show their art performance. The Far Eastern capital was visited by the orchestra of Celtic bagpipes and drums named his team as the team of the European Union. Performances are held at concert venues, streets and squares of the city.