04 February 2018
National team Russia – World champion!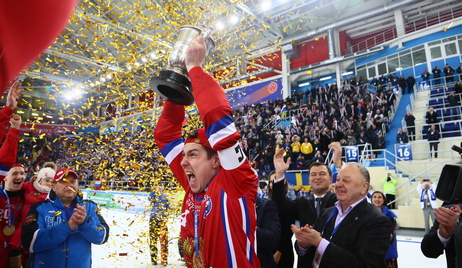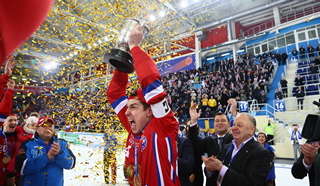 National team Russia – World champion!
The Bandy World championship ended up in Khabarovsk. During the intense final match, national team Russia won over national team Sweden with the score of 5:4 and regained the title of the strongest and Champions Cup.
Team Russia was not a slow-starter – the first ball flew into experienced Andres Swensson's goal cage already on the second minute of the match – Almaz Mirgazov excelled after precise pass from Sergey Lomanov. In three minutes he as well extended the lead. Swedes began playing rougher and as a result reduced the lead a bit – Per Hellmyrs passed through Russian Defenders and managed to deceive Roman Chernykh. Home team responded after corner, the opponent went on offensively but the match ending became the time of Roman Chernykh – he parried all strokes by Swedish players.
After halftime, Swedes got into the game right away and on the 20th second of the second half drove the ball into Roman Chernykh's goal cage who didn't expect such a quick drive. Soon Maxim Ishkeldin managed to get back the lead of two balls by catching the ball from Sergey Lomanov who broke through Swedish defense. Svenne Olsson's team was not going to give up acting in defense precisely and organizing offenses quickly two of which ended up with goals.
They tied up and the match became more intense, tribunes of Arena Yerofey went quiet. More and more scoring chances were appearing at Roman Chernykh's goal cage but the goalkeeper again was standing tall. On the 78th minute Mikhail Yuriev's team once again led Almaz Mirgazov to Andres Swensson's territory and the ball flew into the netting – 5:4. National team Sweden Head coach took a time-out but even after the pause Swedish players didn't manage to tie up.